Shannon & Sandee Whitehead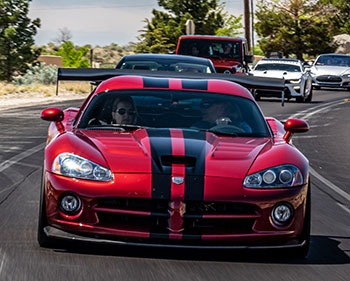 Shannon had a passion for sports cars at an early age.  After sharing a 1961 Ford Pickup with his two brothers during high school, the passion for a sleek sports car was on.  After getting his first sports car…a 1986 Pontiac Fiero, the hunt was on for his elusive dream car. The Dodge Viper arrival in 1989 set the bar for what would come next.  In 2005 Shannon & Sandee purchased a 2005 Dodge SRT10 4 door pickup truck. The ultimate Truck with a standard 505 HP V10.  Still on the road today as one of the fastest production trucks of all time.
Then came the 2005 Dodge Viper SRT Roadster. The Slate Grey Viper looked much like the Bat Mobile with a black rag top. The Viper was a Casino Give Away Car that was passed up by the winner.  Shannon & Sandee bought the car with less than 200 miles on it.
In 2010 Shannon traded in the 2005 Viper for a 2008 SRT10 Coupe. The car had less than 1,000 miles on it and color matched the SRT10 Viper Truck.  The Viper Coupe has over 50K miles on it today and has had a few upgrades.  Shannon can attest the car will go more than 185 mph…simply ran out of road.