Roy Sjoberg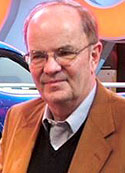 Roy was born in Erie, Pennsylvania in 1938 on November 8th.  His parents moved to Verona, NJ in 1939 and, tragically, his mother passed away in 1943 during an operation for a tuberculosis complication.  Shortly after, his father moved the family to Media, PA and remarried.  His stepbrother Warren "Bob" Steele is the person that ignited Roy's passion for cars.  Bob was always working on cars and the young Roy was his helper – running around the garage for Bob while watching him work on cars.  Little Roy would find himself riding shotgun with Bob on Baltimore Pike in Philly racing cars long before Woodward gained its 60's reputation.
Out of high school, Roy's aspirations were the Navy.  He was accepted into University of Michigan's engineering program and graduated with a BSME in 1960.  Roy received a Commission in the United States Navy, but as fortune would have it, was injured "horsing around" with his classmates.  This resulted in the Navy withdrawing their Officer Commission.  Their loss, our gain!  Roy applied to General Motors and was offered a position in the engineering training program, starting September 26th, 1960.
In his senior year, his friends set him up on a "blind date."  Shortly before the date, the collective friends played a joke on Roy by saying his date had a speech impediment.  However, Roy prided himself on being a gentleman and followed through on his commitment.  Once at the sorority house, his "date" descended the stairs and Roy want to "jump out the window."  With his friends preventing his escape, his date, Margaret "Peg", descended the stairs and, as Roy tells it, "I knew right there and then that she was the one."  Peg, on the other hand, enjoyed the date, but had big plans to move from small town Michigan to Colorado for a teaching career.  She wasn't planning on a second date.  Roy worked some magic, bought two tickets for the next weekend's Loui Armstrong concert in Ann Arbor, and took Peg.  After that, Roy and Peg were in separable.  When Roy asked for her hand in married, Peg says, "I cried!  I don't want to be a housewife – I don't clean houses!"  As she talked and cried with a friend, it was pointed out that her and Roy had seen each other every day since their introduction.  They were married July 7th, 1962 and have been a driving force raising four kids (Robert, Lee, Jon, and Sara), eight grandchildren, and creating one Viper.  I will say this about Mrs. Sjoberg after spending time with her, behind every success man, is one incredible woman.
Roy started as a Development Engineer on the Corvair and did several rotations in engineering.  In 1962, his first permanent position was in Flint with Frame and Stamping, later known as Metal Fab, as a Manufacturing Engineer in die development.  One of Roy's great accomplishments, besides the Viper, was developing a system of part production he named Computer Rotational Aided Projection.  Today, he still laughs how long it took the engineering group to realize the acronym he secretly created in plain sight.  Now you are laughing as you just went back and spelled it out.
His next big assignment came in 1967 working for Carl Jakust in Chevy Design Engineering with styling.  This was Roy's first position that provided a company car and he made full use of the benefit by ordering a 1967 427 Corvette with a 4 speed.  It made the drive from Flint to GM's Tech Center in Warren, Michigan enjoyable.  It was during this time that Roy earned his MBA from the University of Michigan and worked on the Vega as a Corrosion Engineer developing the aluminum bumper with Reynolds.  With the Vegas' historical place in history well documented, it was great for him and us that he met Zora Arkus-Duntov, Father of the Corvette.  In 1970, Roy started as a Development Engineer at the GM Proving Grounds for what would become the 1973 Corvette and worked on the XP-882 mid-engine Corvette concept.  This led to working for Bernie Pearson in the Monza Body Design Engineering group and various engineering management roles in what would become CPC (Chevrolet – Pontiac – Canada).  CPC was GM's attempt to commonize platforms for small car production.
In 1985, Roy was contacted by a headhunter about an opportunity with Chrysler.  The company known for K-Cars, minivans, and turbos, held little interest.  However, Roy had found out that GM politics prevented him from becoming the Chief Engineer of a notable composite GM two-seater and was compelled to listen.  Chrysler needed an engineering manager with plastics and manufacturing background to lead an effort called Genesis.  This wasn't a Korean import, but a vehicle to showcase Chrysler's engineering ability to build composite bodied vehicles for weight savings.  The opportunity looked promising, but Chrysler's financial reputation preceded itself.  This dilemma causes Roy to talk with a mentor of his, Robert "Bob" Stempel, (GM's future Chairman from 1990 – 1992) for advice.  Roy says, "Bob said go work for them and see what you think."  Roy, being the creative type, we all know he is, took vacation from GM and worked for Chrysler to evaluate the opportunity from the inside.  He ended up with company cars from both companies and quickly decided Chrysler was a good, calculated risk.
The Genesis program lasted a year, but with the next automotive downturn in 1986, the program was cancelled.  Roy then held positions of Chief Materials Engineer for all platforms and Chief Engineer for Minivan.  Somehow, he managed to find time to earn his Executive MBA from MIT.  All in preparation for the opportunity of a lifetime!
In January of 1989, Roy was asked by Bob Lutz to come by his office.  They spoke about 30 minutes and Roy was offered the position of Chief Engineer for the Viper program.  The intent of management was a feasibility study, but Roy had other intentions.  He was asked three questions:
How long it would take to prove feasibility?
How much would it cost?
How many people would the effort require?
Roy's answers were 36 months, $65 million, and 52 people.  Roy new cars like this die in feasibility and set out to produce it with that budget.  The only number that changed was with Robert "Steve" Miller's (Executive VP of Finance and later Chairman of Delphi and American International Group over United Airlines) advice to change $65 million to $49.9 million.  Steve told Roy that would allow Lee Iacocca to approve the program without board approval.  It was Roy's dream come true.   Peg said, "I knew Roy had his dream the moment he walked in the door, told me what happened, and he went straight to work in his office."  Roy spent several long nights planning and targeting people who could get it done.
Roy, Thomas Gale, and Bob Lutz held an interest meeting in the Styling Dome at Chrysler's Highland Park headquarters in February.  As the story goes, there were around 100 invited.  I have read that anywhere from 140 to 300 crashed the event.  What's the truth?  Without a sign-in sheet, who cares – it was a lot!  Seeing Bob's Cobra replica and the Viper show car, the audience heard how the industry and Chrysler needed passion – something people could get excited about.  Like many ideas that push the envelope with passion, some didn't believe, some were too scared, and some were crazy enough to jump with both feet.
Roy worked tirelessly alongside the Viper Team to accomplish the 36-month goal.  Roy once said in a Car and Driver article, "Zora got your emotions involved and when that occurred, your commitment followed ad infinitum."  It was this same philosophy, his energy, his drive, and his inspiration that attracted the right people for a special moment in time.  Together, the initial 28 grew to 62 that grew to 85 with manufacturing engineering included.  The stories are endless!  From bringing the likes of Bill Weertmann (426 Hemi and 355cid fame) out of retirement, to Nelson Ledges, to giving Lee Iacocca his first ride in VM01, to the 1991 Indy Pace Car, to ordering his first company car as Viper Chief (1989 Dodge Ram Van B350 with only a driver's seat), to the GTS, to Conner Ave, and to the GTS-R.
Roy started as Chief Engineer of the Viper working for notable Tom Sidlic.  Tom became a Daimler-Chrysler AG Board of Management member and held other notable automotive positions.  Roy also worked for Chris Theodore who became Chief Engineer of the Ford GT.  Roy was promoted to Viper Program Executive and retired in 1997 after 12 years with Chrysler and 37 years in the automotive industry.  In those 12 years, Roy oversaw the creation of the Viper R/T10, GTS, 1991 and 1996 Indy Pace Cars, GTS-R race program, a TV show, and a FIA GT Championship. Like Zora, Roy wanted to build a mid-engine that never came to pass and would have been a monster we all would have loved!
Roy has kept very active in retirement.  First, he couldn't just leave the industry.  Roy consulted with Ferrari for 5 years on designing a new Maserati.  He was a Vice President with Heart International to design a Humvee replacement for International Truck.  More importantly, he and Peg enjoy their home on Mullet Lake in Indian River, MI.  If you haven't been there, then put it on the list of places to go.  Whether it's the long summer nights or incredible falls with warm sun and crisp air, it is better than Pure Michigan could ever describe!  They built their home in the 90's and spend 9 or so months there.  When the Christmas holidays are over, they head to Florida for a couple of months of warmth and bridge playing on Wednesday nights.  Roy still enjoys the passion that automobiles bring to his and other's lives.  He has participated in multiple Concours d'Elegances such as St. Ignis, Southwest Michigan, St. Johns (formerly Meadowbrook), Greenbrier, Philadelphia, and Amelia Island.  The latter being the Concours that Roy judged from 1996 to 2020 for Mr. William "Bill" Warner who founded in 1996.