Carrol Shelby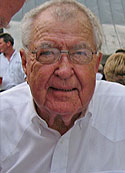 Carroll was born January 11, 1923 in rural Texas and grew up enthralled with speed which was to define his life and legacy.  At 10, he discovered dirt track racing as a spectator, and it continued to fuel his love for speed.  By the time he turned 15, Carroll was driving and working on the family car.
In 1940, Carroll was accepted into the Georgia Institute of Technology in the Aeronautical Engineering program and later enlisted in the Untied States Army Air Corp in November 1941, one month before the Pearl Harbor attack, for pilot training.  Shelby served as a flight instructor and test pilot.  He flew the Beechcraft AT-11, Curtiss AT-9, Douglas B-18, North American B-25, Douglas A-26, and the Boeing B-29 before being discharged after the allies' victory over Japan.  Between 1945 and 1952, Shelby tried his hand in trucking, oil drilling as a roughneck, and the infamous chick farming before pursuing his love of speed.
For a short 7 years, Shelby competed as a race car driver, achieving legendary status with numerous wins in some of the world's most prestigious events.  Shelby completed globally and won some 60 plus races with many speed records.
With his racing career coming to a close, Shelby began a high-performance driving school and Shelby American to customize select vehicles.  The vehicles produced or developed, as many of know, where the AC Cobra, Shelby Daytona Coupe, Ford GT40, Shelby GT350, and Shelby GT500.
Taking time away from the limelight of racing and vehicle development led Carroll to reunite with Lee Iacocca in the early 80's to add performance to the Dodge line up.  Some vehicles were built by Shelby American while others built by Dodge.  The Shelby branded Dodge built vehicles where the Shelby Charger, Daytona Turbo Z C/S, Daytona Shelby Z, and the Lancer Shelby.  Dodge vehicles modified by Shelby American in Whittier, California were the Omni GLH-S, Charger GLH-S, Shelby Lancer, Shelby CSX, and Shelby Dakota.
The partnership between Dodge and Shelby was valuable during the creation of the Dodge Viper.  With his name, performance expertise, and relationship with Lee Iacocca, Shelby was involved early in the creation of the Viper Show car and during its development as a member of the Technical Policy Committee.  Carroll was dubbed by the press as a "Four Father" of the Viper as he, Bob Lutz, Tom Gale, and Francois posed for pictures with the show car at the North American International Auto Show in Detroit in January of 1989.  As development of the Viper progress, Shelby's heart condition worsened, leading to a transplant.  With a new heart and energy, Shelby was chosen to drive a Viper prototype as the 1991 Indianapolis 500 pace car.  He lived up to the billing with Team Viper, the press, and fans to create on of thee most memorable Indy 500's and the only modern 500 to be paced by a prototype.  Shelby relationship continued with Viper with the RT10 launch in 1992 and through the unveiling of the Viper GTS concept in 1993.
After the Dodge and Shelby relationship ended, Shelby went on to create the Series-1 and, by 2003, was working again with Ford on both production and concept vehicles.  The vehicles included the Ford GT, Shelby Cobra concept, Shelby GR-1 concept, Shelby Mustang CS6, Shelby GT500, Shelby GT-H, Ford Shelby GT, and others.  The Ford Shelby relationship has remained strong, producing Shelby brand vehicles to the current date and Shelby American modifying other for sale as Shelby vehicles.
Shelby passed away in May of 2012.  His legacy as an automotive icon is cemented in history as both a racecar driver and vehicle manufacturer/performance consultant.  For those Viper enthusiast, Carroll Shelby's name will tied to Viper's inspiration and as the man who inspired many on Team Viper during Viper's development.
For more history on Carroll Shelby, please visit www.shelby.com/en-us/History.