Francois Castaing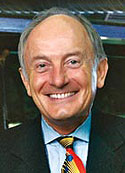 Francois was born in Marseille, France in 1945.  He grew up in the region and graduated from Ecole Nationale Superieure des Arts et Metiers in Paris.
Francois' first position was with Gordini, a race engine and racecar builder.  He began by working on race engines for the 24 Hours of Le Mans.  Shortly after starting with Gordini, Renault bought a controlling interest in the group.  As a result, Francois eventually became Renault's Sport Technical Director where he led the creation of a new 2-liter turbocharged engine that helped Renault win the 24-hour Le Mans race in 1978. Under Francois' direction this same engine was used in and won Formula 1 Grand Prix races for Renault becoming the first turbocharged engine to do so and causing several other Formula 1 teams to embrace similar designs to remain competitive.
Because of troubles AMC was having in the late 1970s, Francois was asked to take over product engineering as Renault became AMC's principal owner.  Over the next seven years as Vice President of Product Engineering and Development, Francois oversaw the development of the Jeep Cherokee (XJ platform) that extended Jeeps domination in the sport utility vehicle (SUV) market.  He also created an improved design methodology that became known as Product Lifecycle Management (PLM) which increased product development speed and shortening development time at reduced costs.  Given the Jeep brand's value along with the advantages of the PLM process, Chrysler acquired AMC in 1987. Shortly after the acquisition, Francois was named Chrysler's Vice President of Vehicle Engineering.
During Francois' time at Chrysler, he was responsible for numerous innovative organizational and process improvements. Significantly the Platform Vehicle Development Process was introduced and the 6,000 plus engineering staff were reorganized into Platform Teams. Francois is one of the Four Fathers of the Dodge Viper along with Bob Lutz, Tom Gale, and Carroll Shelby. Using the Platform Team process, Viper was created in 36 months from concept to production. The next critical range of vehicles to be created using the Platform Team process was the LH (Intrepid/Concord) which took 39 months from concept to production. This type of development had previously taken Chrysler at least 50 months. Subsequent vehicles such as the 1994 Ram, Neon etc. all benefited from this new time saving process, cutting hundreds of millions of dollars from development costs and accruing many millions more in sales revenue by rapidly getting new vehicles to market. The success of the Platform Team Process was greatly aided by Francois' introduction and standardization of Dassault Systems Catia computer aided design system throughout Chrysler and much of the supply base. Subsequently Francois was appointed Executive Vice President of International Operations and Head of Powertrain Operations in 1996 until his retirement in 2000.
Within the Automotive Industry and during his time at Chrysler he was the inspirational co-founder of the United States Council for Automotive Research (USCAR) along with Ford and General Motors. He was also on many boards of automotive suppliers, motorsports organizations, and new energy enterprises.
Civically he was very focused on inspiring children to pursue careers in math, science, and engineering. He led the renovation and expansion of the Detroit Science Center. Also noteworthy in this effort was his leadership of FIRST (For Inspiration and Recognition of Science and Technology). This involved local, state, and national competitions for school groups who were tasked to build robots from a given set of parts to perform tasks against time and performance standards.
Amongst some of the organizations that recognized Francois talent were the National Academy of Engineering in 1995, the Federation of American Scientists, and Automotive Hall of Fame in 2010.